Ocean Infinity
Strada 1 Decembrie 1918 33, Sfântu Gheorghe 520023, Romania
.NET Software Developer (Service-Oriented Architecture in Azure)
Medior

|
Full-time

|
IT Development

|
Remote work

|
Sfântu Gheorghe
Job details
.NET Software Developer (Service-Oriented Architecture in Azure)
Strada 1 Decembrie 1918 33, Sfântu Gheorghe 520023, Romania
Engineering

|
Sfântu Gheorghe

|
Corporation (> 250)
Receive job notifications
Subscribe and we'll let you know if there's a job opening!
Job info
About the job
We are looking for a Software Developer with experience in Service-Oriented Architectures and Microservices Architectures, who will collaborate with the team in designing/implementing architectures for different solutions, document and ensure best practices are followed and that product quality exceeds expectations.
Preferred application method
Language of application:


English,
Work schedule
Weekly working hours
40 hours / week
Core time
09:00 - 17:00
Responsibilities
Develop and review technically complex products based on SOA/Microservices.
Document software and processes as needed.
Follow development and quality best practices, but be critical if you believe they can be improved.
Implement API's/Services.
Develop products using technologies such as .Net C#, Unreal Engine, Python, among others.
Professional skills
Service-Oriented and

5 / 5

Microservices Architectures

5 / 5

.Net C#, Python, Powershell

4 / 5

developing in Azure Cloud

4 / 5

implementing API and services

5 / 5
Qualifications
Computing
Any level degree
Language skills
English
Conversational level
Recommend to your friends!
Send the link
Personal skills
Able to work in a team

|
Ability to work independently

|
Agile, Proactive

|
Open to new ideas

|
Ability to prioritize work
Ideal candidate
has advanced knowledge of Git, experience working with real time data, with game engines (e.g. Unreal Engine) and CI/CD.
We are...
a technology company that is transforming operations at sea to enable people and the planet to thrive.
open-minded and fearless in our approach to innovation and don't believe in boundaries. We challenge everything and have massive ambitions to drag aging industries into the tech era.
Our values and people
We take safety, equality and education very seriously, and our responsibilities don't stop at our front door. Our business is built on the belief that there's definitely a more environmentally responsible way to operate at sea.

We only employ the best people. People with a desire for excellence, a curious nature, people who are thoughtful, humble, collaborative and accountable.
About the company
Our story
2011

Ocean Infinity (former Red Rock Tech) started its software developing activity in Saint George.

2013

Ocean Infinity (former Red Rock Marine) has started his activity and the first crane was built.

2021

Ocean Infinity (former Red Rock Ai) was established to create autonomous lifting equipment.
What makes our product special
AI-supported operations

|
Global service and support

|
Highly skilled professionals

|
Smart and connected equipment

|
Seabed Intelligence data

|
Environmentally responsible

|
Autonomous lifting & handling
Our product
Engineering, robotics and software development.
As a world leading marine robotics company we have undertaken some of the most ambitious offshore projects the industry has ever seen. Using innovative technology, Ocean Infinity is transforming operations at sea to enable people and the planet to thrive. Through the use of remote and robotic technology, we provide a low-emission, safer alternative to traditional, high-emission operations.
Product video
Life with us
Lightning round
Beer, wine or shot?

Yes please.

Superpower?

We see a better future.

Sex ratio?

We are happy to welcome more female professionals!
Trainings and workshops
The opportunities for people in our business can be limitless, spanning a multitude of disciplines and open to all, regardless of background and experience level.

How can the employees affect the company's life?
Each colleague has the opportunity to take part in the companies strategy plan and help to create the one pager of true suggestions and actions. Great ideas can come from anyone no matter of experience field.
Why we love our office
Brand new office, specially built and designed for our needs.
Office photo
What would I miss if I left
Working at Ocean Infinity is not a job, it is a lifestyle and I would miss the chance to know wonderful people.
Favourite thing in the office
Personal qualities we appreciate
We only employ the best people. People with a desire for excellence, a curious nature, people who are thoughtful, humble, collaborative and accountable. We enable people to thrive.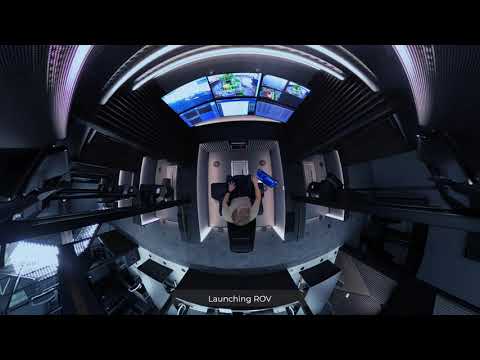 Team video
Smart Handling Systems
More about us
Ocean Infinity has already made leaps in terms of how data collected, and now, the company is going a big step further to develop next generation operations at sea. With a remotely operated fleet of ships and remote control centres all underpinned by an overarching fleet management system, Ocean Infinity is enabling safe, secure, and effective remote operations and data collection globally.